The Pinnacle
A very special harvest of the biggest, oldest sturgeon. Only the best fish are selected to stay in the lake for an extra 6-10 years. This extra time and care pays off with stunning, large, golden eggs (over 3.5mm in diameter). Supreme is only harvested when seasonally available to ensure we never deplete our mature fish. After harvesting, the eggs are sorted in-house to be sure that Supreme's superlative standards are met.
For the Finer Things in Life
We believe in making the everyday more luxurious, but this is a caviar for the special times when only the finest will do. The eggs are almost weightless on the tongue, and with a subtle pop a lifetime of hard work and complexity fills one's palate, leaving the eater wanting more.
Keluga Supreme
Keluga Supreme has all the balance of a ballet dancer: assertive and elegant, decadent and lucid, ephemeral and unforgettable. The handsome pearls convey a wave of refined flavor that soon flits weightlessly away.
Shop Keluga Supreme
Ossetra Supreme
Ossetra Supreme plays a melody — elegant, yet building — on your tongue. It's a tune you've heard before, but rarely this exquisitely. The olive-hued eggs present a clean, harmonious tone, finishing with a subtle fruitiness reminiscent of an aged wine.
Shop Ossetra Supreme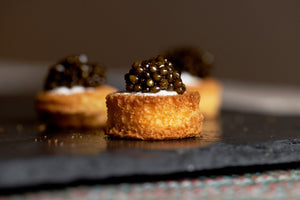 Our supreme caviars are harvested in small rounds after meeting specific standards in order to ensure the best quality. Therefore, the availability of both Ossetra and Keluga Supreme are extremely limited and updated regularly.